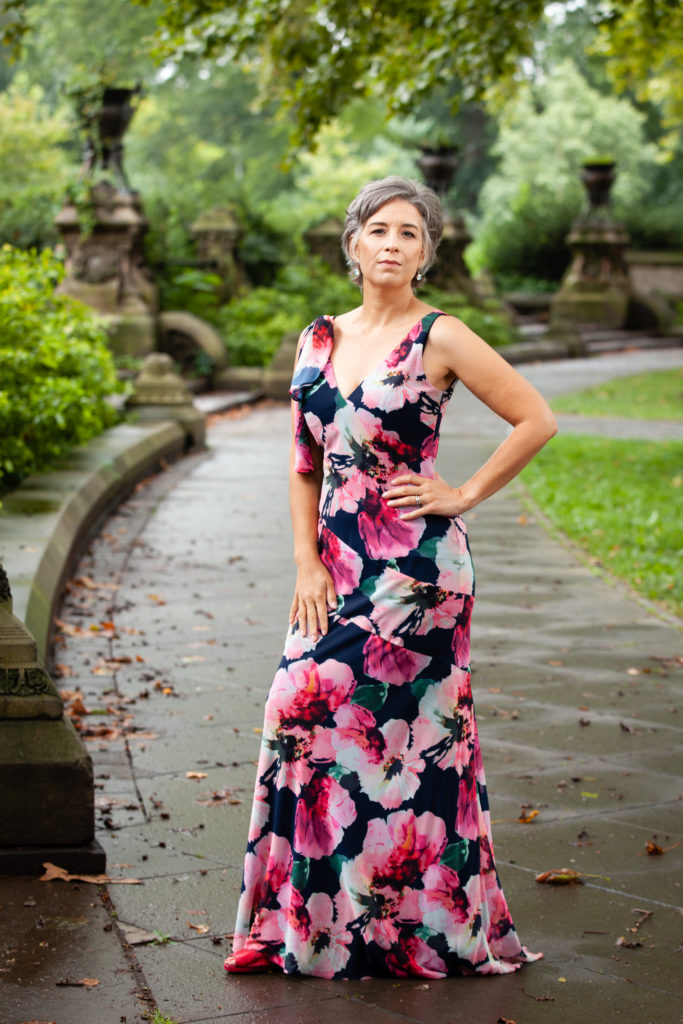 Duke's new music appearances are varied and numerous. The premiere and subsequent tours of Little and Vavrek's 2012 opera Dog Days led to the original cast album, released in 2016. With the Center for Contemporary Opera, she performed in the New York and European premieres of Dellaria's The Secret Agent, in New York, France, and Hungary. Duke created the role of Sally Rogers in Paul Salerni's The Life and Love of Joe Coogan, based on an episode of The Dick Van Dyke Show in 2010. Duke also workshopped works by Matt Aucoin (Crossing), Gerald Cohen (Steal A Pencil for Me), and Diedre Murray (Patient Zero, The Blackamoor Angel).
Cherry Duke has performed frequently in cross-over and music-theater works, including scenes from Scott Davenport Richards' jazz opera Charlie Crosses the Nation; Don Davis's salsa-inspired Rio de Sangre; and Gordon Beeferman's post-modern Ratland, all with New York City Opera's VOX Festival of New Works. At Bard's SummerScape Festival and Joe's Pub she was a featured singer-actor in Carl Hancock Rux and Diedre Murray's "cabaret opera," The Blackamoor Angel. Under the direction of MacArthur Fellowship winner Yuval Sharon, Duke played a singer in a theatrical mashup, Celebrate Good Times: Macbeth. She portrayed Mrs. Segstrom in Indiana Repertory Theatre's A Little Night Music, alongside opera and jazz legend Sylvia McNair. In 2018, she was the headliner for "Amor," a cabaret/recital at the Philanthropy Theater in El Paso. In 2019, Cherry portrayed Dolly Levi to rave reviews in UTEP Dinner Theatre's landmark production of Hello, Dolly!
Oratorio and Orchestral Soloist
Cherry Duke has performed at major venues such as Carnegie Hall and Avery Fisher Hall. As an orchestral concert soloist, She was a featured soloist in such repertoire as Bach's B-Minor Mass, St. John and St. Matthew Passions and Weihnachts-Oratorium; Beethoven's Ninth Symphony, Mass in C and Choral Fantasy; Duruflé's Requiem; Falla's El Amor Brujo; Handel's Messiah, several Haydn masses; Mendelssohn's Elijah; Mozart's Vesperes Solennes, and Grand Mass in C; Rossini's Stabat Mater; Saint-Saëns' Christmas Oratorio; Vaughan-Williams' Hodie and Magnificat; and Respighi's Lauda per la Nativitá del Signore. She debuted in Beethoven's Symphony No. 9 under the baton of Gerard Schwarz with Symphoria in Syracuse, New York, and reprised this role in 2016 with the El Paso Symphony Orchestra. In the fall of 2020, during the pandemic, Duke performed the vocal solo in Mahler's Fourth Symphony under the baton of Dr. James Welsch in El Paso.
In addition to oratorio and symphonic appearances, Duke has frequently performed as a soloist in opera concerts with regional orchestras (Missouri Symphony Society, Johnstown Symphony Orchestra), including El Paso Symphony Orchestra's February 2020 "A Night at the Met" concert featuring Metropolitan Opera tenor Paul Groves. Other special projects have included several presentations of A Spiritual Messiah and guest solo appearances with Roswell Symphony, UTEP Symphony, and others.
In 2021, Duke was the mezzo-soprano soloist in the world premiere of the El Paso Requiem by Jorge Martín (to honor those lost in the Walmart massacre of August 2019).
Recitalist
As a recitalist, Cherry Duke specializes in works by underrepresented composers. In 2016, Duke debuted her recital of works by female composers (Women's Work) at Converse College and the University of Texas at El Paso and later was invited to perform the recital at the National Association of Teachers of Singing Texoma Regional Conference and Northeastern State University. Her program of French and Latin American Chamber music (Voyage) was featured at UTEP and the Texoma NATS Conference in 2020. She is currently preparing a recital featuring works of African American and African Diaspora composers (Life & Death).
Additionally, Duke has been a guest performer on recitals nationally and locally. In 2019, she was a guest artist at the Town Hall Theater in Middlebury, Vermont, with composer Jorge Martín and tenor Brian Downen on a recital featuring Martín's compositions.
Educator and Director
As a teaching artist, Duke toured with The Metropolitan Opera Guild, New York City Opera's Education Outreach, Connecticut Opera Express, New Orleans MetroPelican Opera, and Virginia Opera's SPECtrum Resident Artist Program.
In the fall of 2015, Cherry Duke joined the music faculty at the University of Texas at El Paso where she teaches voice and directs Opera UTEP. Cherry has served on the voice faculty of Bay View Music Festival, Innovative Music Camps, and Clear Creek Music Festival. She has given masterclasses at the University of Delaware, Indiana Wesleyan University, Bethany College, El Paso Community College, Converse College, Salisbury University, Northeastern University, and the University of Alabama. Duke is a frequent guest speaker on career-related topics at universities nationwide. She also has created and presented extensive programs on the business of music through her company, YourType Arts Partners.
As director and producer of Opera UTEP, Duke has presented a sold-out dinner theater production of Michael Ching's Speed Dating Tonight with a live band at Ardovino's Desert Crossing; Puccini's Sister Angelica (paired with Act 2 of La bohème); a review of the music of Kurt Weill, paired with scenes and poetry from his literary collaborators; among others. In April 2020, Duke responded to the pandemic by converting the Spring Opera Showcase into a highly successful online event, featuring recorded virtual performances and live narration and commentary from the UTEP students. While others around the country were canceling, Duke was innovating.
As part of her mission of service to her students at UTEP, a Hispanic Serving Institution, Duke is reviving the El Paso tradition of zarzuela (loosely translated as Spanish operetta). She has directed many programs of scenes featuring works from the traditional opera repertoire alongside pieces from the vast canon of zarzuela. In April 2022, she produced and directed Federico Moreno Torroba's masterwork, Luisa Fernanda, featuring the UTEP Symphony Orchestra, Concert Chorale, Dance Team, and soloists from Opera UTEP, the voice faculty, and UTEP voice alumni. Additionally, in January 2022, she presented "The Case for Zarzuela in Collegiate Opera and Voice Programs" at the National Opera Association annual conference, in collaboration with Dr. Paulina Villareal.
Background
A Texas native, Duke graduated summa cum laude from Texas Woman's University, where she studied with renowned mezzo-soprano and pedagogue Joan Wall. She did graduate studies at The Hartt School at the University of Hartford where she received an Artist Diploma in Opera Performance. Duke was an apprentice artist at Opera North, Chautauqua Opera, and Glimmerglass Opera. Duke's early training programs included the Israel Vocal Arts Institute and the Promised Valley Playhouse Summer Opera Workshop. Her additional voice teachers have included Trish McCaffrey, Elaine Bonazzi, Ruth Golden, Shirley Love, David Jones, and Judith Natalucci. Cherry Duke is a member of Sigma Alpha Iota, Opera America, National Opera Association, National Association of Teachers of Singing, the American Guild of Musical Artists, and Actor's Equity Association.
---
Upcoming Engagements
Date
City
Venue
09/28/23
El Paso, TX
Fox Fine Arts Recital Hall

Time:

7:30pm.

Age restrictions:

All Ages.

Address:

500 W University Ave..

Opera UTEP's annual Hispanic Heritage Celebration concert features students, faculty, and guest artists performing Latin American and Spanish art songs and arias. Directed and produced by Cherry Duke, with pianist and vocal coach, Dr. Esequiel Meza, Jr. TICKETS:

Click here for more information. Buy Tickets
SaveSave
Save
Save